Name: Kaichi Jim
Age: 13 and 12 years heartless
Gender: male
Personality: you see when your rp with me.
Appearance: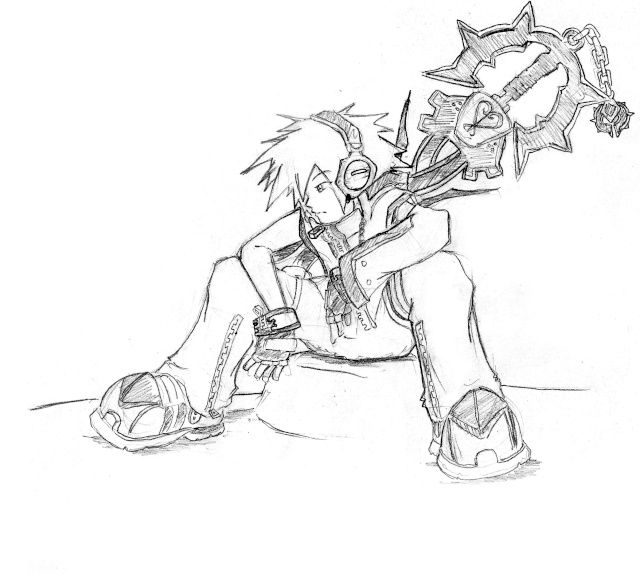 History:
When this happen Joord was like 4 year old so he doesn't remember anything .his parent didn't want to be reminded of what happen that day so they decide to tell Jim's brother Joord nothing about Jim .that Joord didn't have a brother.
Jim had a good live his he had parents that love him and his brother liked hem to .until his first birthday everyone they know came and he got a lot of presents they where al very happy to see Jim and his family .but Jim got tired vast ,so his parent where brining him to bed.
The heartless noticed a keyblade wielder so the took there chance and took Jim in to the darkness ,and took his heart .after that Jim main goal was to survive . After a Few Year He Was able to get into human form and started training with his dark powers.
Position: Neutral
Element: Fire
Realm: realm of darkness
Rp sample:
Jim is at his trainings spot in a desert .his on the top of a mountain taking a break from his practice .he looks at the red sun that's going down .he stands up 'enough training im going to other worlds .he jumps down the mountain and makes a dark realm even before he landed .so he disappear in the dark realm.
When in the dark realm, it so quiet, it feel so empty inside, there is nobody the only ting he can hear are me own foot steps .Jim sees a nobody and the nobody sees him .all of a sudden more two more nobody s appear there .now there are three of them they are low level nobody s dusks .the nobodies where going to twillight town .Jim is following them to twillight town.
In twillight town Jim was still following them until the forest .ones there the dusk where going in battle stand and started to attack Jim try s to defend him with some spells and dodges some but got hit in the back .at that moment Jim weapons blueflames seffire .Jim counters fast and kills one of the dusks, Jim uses the dark realm to come closer to the other two and kills them fast .an so Jim's day ends.
Special moves:
blue explosion: Jim Makes An Ball Of Blue Flames Around him That will shield him from attacks lasts 1 attack.
Damage: 10 hp
Cool down: 3 post
Fire clone: Jim can make a clone of fire That Will explode when It gets hit . Jim can also Hide and send In a Fire clone to Do the fighting and then Appear behind someone hitting him.the fire clone has the same attack power as jim.
Cool down: 4 post